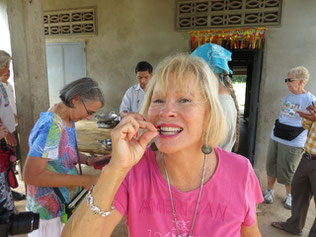 Since the 1970's when my college classes began to fill with Viet Nam War vets, some on hospital guerneys, I had a vision of visiting S. E. Asia. Later, as Saigon fell and thousands of Vietnamese refugees settled in Orange County, and many found their way to my classroom, my interest in that part of the world became significant. Last month that dream became a reality as I visited Thailand, Laos, Viet Nam and Cambodia, traveling to places and offered by means often outside my comfort zone. There was much to learn, but two highlights stand out. The first is a beautiful Cambodian woman known as "Spider Woman" and the second is my impression of a people who have been through so much.
As a Hollywood afficianado, hearing our guide, Sang, announce that we would soon be pulling into the village of "Spider Woman" captivated my attention; visions of old Spiderman movies danced in my head! He explained that her village is famous for its prized delicacy, fried tarantula! We were heading to Seam Reap, the starting point for treks into the famous Angkor temples, when our bus stopped in front of a typical bamboo house on stilts and a dozen or so young children ran to greet us in various stages of dress. The 16 of us in our group disembarked and cautiously strolled over to where an attractive young mother of three was waiting. She had her tarantula hunting stick in hand. The guide explained the process of tarantula catching and its value to the village. The villagers support themselves through farming but the tarantula business is a lucrative sideline with one fried delight selling for the equivalent of fifty cents American, a high price on the low per capita income in that country.
As Sang introduced "Spider Woman" to us, she smiled shyly and then guided us to a grassy corner of her yard. We watched with excitement as she poked her hunting stick into a deep hole. She kept working it until suddenly, success! She had one! Very carefully she urged the hairy creature out of its hole and coaxed it into her open palm. The guide narrated as she defanged the tarantula. For long minutes the spider remained in her open hand while we shot photo after photo. Next, she took it to her outdoor kitchen where she placed it in a colander with a dozen other spiders. With a quick pinch she ended their lives, washed them in water, rolled them in seasoning and placed them in a frying pan. They sizzled before us. The crowd laughed nervously, knowing that soon we would be invited to eat them. After a few short minutes of deep frying she drained them and offered them up!
My fellow travelers hung back. Sang put one in his mouth. The group did not move. As a grandmother of two strapping boys, I knew this was a once-in-a-lifetime opportunity to gain an authentic "street cred" with my boys! I stepped forward, the group gasped. My friends got their cameras ready as I placed one hairy leg into my mouth and chewed! I even managed to swallow it! Some of the men in our group were not to be outdone and they too sampled the crispy delicacy. The excitement of eating tarantulas sustained us for the rest of the bus ride that day. In fact we are still talking about it! When I emailed photos of my tasting adventure to my grandsons the 17-year old said, "Even I would never be that daring!" Clearly those awful scratchy bites were worth it!
The nearly 3 week long expedition was through tour operator Overseas Adventure Travel. Known as O.A.T., they are dedicated to cultural immersion experiences through small groups. The result is that we got to meet many people in their homes and villages. I sought out the children who seemed fascinated by my blonde hair and my video camera. It was rather emotional for me to have so many groups of little kids surrounding me everywhere we stopped. Huge brown eyes greeted me and took in my every move. I began video taping them and sharing the camera shots which resulted in hysterical giggling, shoving, laughing and more giggles. They demanded rewind after rewind. Sometimes I filmed their mothers and then showed them the movies. Shy smiles would be my reward.
The days were filled with fascinating experiences from pre-dawn alms giving to the monks, to a Hmong chief who danced for us in his hut. This was especially meaningful to me because my husband and I both taught Hmong refugees who came to the U.S. in the 1970's as illiterate children. We joined school children at their desks and met a blacksmith pounding out his wares on an old shell casing; we met an educated man whose life work is to teach organic farming and the importance of using adobe bricks over bamboo for housing.
Reminders of the long war were everywhere, from dilapidated old jeeps rotting in the grass to bomb shells sitting in nearby doorways. One day our bus parked on an abandoned air strip that had been used by the American forces. At night it becomes an impromptu marketplace. We learned that in both Laos and Cambodia there are millions of active land mines buried in the fields and hills, a constant threat to the children playing nearby. Seeing people with missing limbs became a common sight as did bullet holes in the walls of temples. I was particularly shocked to find that Communist controlled Ho Chi Minh City (previously Saigon) is not only vibrant, but affluent with its designer shops lining the wide boulevards as thousands of young people dash about on motor scooters.
The Killing Fields of Cambodia and the Cu Chi tunnels near Saigon where 16,000 Viet Cong struck at our military forces from below, were a grim reminder of what has transpired in these war torn countries. The Genocide Museum and the War Remnants Museum left a tragic resonance in my heart. I have come away with a new understanding of South East Asia, an appreciation for the harsh realities of a political system where one is not safe to express an opinion, and I have gained a deep respect for these modest people. So many millions of them have so little, but yet all I had to do was take a simple photo to be engulfed in giggles and laughter. This adventure showed me the warmth, the kindness and the joyful souls of the people of South East Asia. It was my honor to visit them.