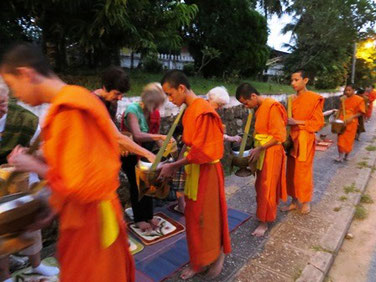 As I clamored into the rickety old motorized rickshaw called a "tuk tuk" at 4:40 a.m. on a pitch dark October morning in Luang Prabang, Laos, I was about to realize a dream that had dwelled in my heart for a very long time. Inhaling the fragrant perfumes of the tropical night, a smile played across my face. I recalled the hunger I felt across my teaching decades as I studied the world map mounted in my college classroom; I would imagine a time when I would be free to experience the planet. I hung on tighter as the tuk tuk bounced me along the rough road toward the day's adventure. One of many I planned to have in my life after 45 years in academia.
I felt fluttery with nervous butterflies as I readied myself to participate in an ancient tradition of giving alms to the town's Buddhist monks. Our little group disembarked the rickshaws at curbside where embroidered mats were lined up with pots of steaming sticky rice provided by our group's support. We were instructed about the seriousness of this religious tradition of giving alms in the hopes of earning good Karma. We were told it was imperative that we be properly draped in our silk scarves and exhibit the appropriate solemn demeanor. We were warned not to raise our heads higher than the monks' (we are mostly taller than they, so this required a lot of bending forward) and we were admonished not to look at, nor touch the monks as we presented our food.
I was not sure what to expect as I peered into the murky darkness hoping for a sighting, I had only read about this; I knew they would be coming with their collection pots. The streets were alive with excitement as others were vying for good wishes through giving to the hundred or more who would pass our way. Finally, after much anticipation I spotted a flash of orange color way up the street. They were coming! Suddenly out of the humid night, a single-file line of men was in front of us. They were moving silently and very rapidly. I scrambled to get my portions of rice into their waiting buckets. There were mere seconds between buckets to manage the rice delivery. I felt pressure to do it right and I had to learn fast, focusing completely on the task before me. I could hear my fellow travelers' worried whispers as they missed their targets and rice servings fell to the ground.
After the first group went through, I began to relax a bit. With the next band I found a millisecond to look into the open pots to see fruits and candy bars donated along the route. My bravery was increasing as each cluster came. With head bent down I studied their bare feet, and eventually sneaking a peek, I noticed a wide range in ages from a few men over sixty years old down to boys as young as six. The area's dozens of monestaries offer the best chance for an education for the boys of rural Laos. The monks venture out each day, all year, to collect the meals. For many this is their only food.
As dawn broke and the processionals dwindled, I could see the gatherings of colorful monks along the streets as they returned to their sanctuaries. I took a deep breath. It had been such a thrill. Then I took in another longer breath and slowly exhaled, lingering in the amazing images of the morning. I could only think "Wow, Really?" It is my turn to see the world; to explore what I only dreamed was out there waiting. Participating in that ancient rite had been awe-inspiring. I marveled that in my decision to travelalone to Southeast Asia, I was opening a personal door to a new world. I had been anxious about traveling by myself, as it was out of my comfort zone, but my time had come. Often the window of opportunity between the responsibilities of career and family and the ability to travel is small. As I headed back to the tuk tuk, I thought about the words of Emerson when he wrote "Unless you try to do something beyond what you have already mastered, you will never grow." There is some truth in that, as well as a whole lot of adventure! Please seek your beyond.