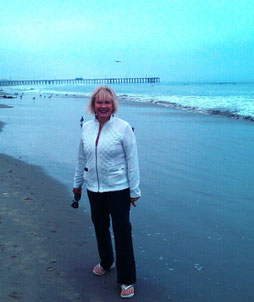 Delighted to be included in "family weekend" we joined our daughter's family to visit our first grandson, newly settled in his new university life. Husband Ken and I turned the occasion into a bit of a holiday. On the way north from Orange County, California, we stopped at old favorite, Carpenteria State Beach, where we happily walked along the wet seashore in our bare feet. There were children playing and people surf fishing; the park seemed full of campers and RVers. This was odd as it was a non-holiday Friday in October, just after lunch.
     "Ken, look at all those people. How can there be so many families here during school hours?"
     Ken just shook his head. He had no idea either.  After a bit we came upon a fisherman and I queried, "Hi!  Why is the park is so full? What is going on?"         
     Smiling at me as he cast his line, he explained, "Why, it is Halloween Haunt in the park!" 
     With that explanation Ken and I continued our walk along the seashell strewn sand delighting in the afternoon sunshine of the beautiful Fall day. On the way back we decided to walk through the park, past all the campsites.  We were surprised to see the big RVs decked out in colorful pumpkin lanterns, tents sporting scary witches, and truck campers with goblins and spider webbing. My imagination could visualize it after dark. The weekend vacationers were turning the park into their own Haunt! No wonder it was quickly filling up with families. Who would want to miss this?
     This was amazing to me because throughout all my years as a youth in this very park, we kids made our own amusements with "kick the can" or hide and seek. Nothing was organized.
     At that point we approached a truck with a camper on it.  Ken pointed out a huge Golden Retriever jumping into the back before I could get a good look at him. Oh darn it! I missed him.
     "Donna, why don't you ask the owners if you can meet him?"
     That was all the coaxing I needed.  Walking toward them I asked, "Oh I saw your beautiful dog. Could I meet him?"
     "Well, he will bark at you!"  Replied the grinning man.
     "I can take barking, as long as he doesn't bite me. Will he bite?"
     Chucking, "Oh no. He is just full of a lot of noise."
     With that a beautiful 100 plus pound male dog bounded to the camper door, and sure enough, he was barking.  He jumped down, followed by a friendly lady. As I admired him, he sniffed my hand and allowed me to rub his downy fur.
      "His name is Bodie and he's five." They said.
     "Bodie. I had a Golden named Bodie." I offered. "I had her for fifteen years and believe it or not,  she too greeted people with a lot of noise. Hers was a big 'woo woo' greeting! This is such fun!"
     We chatted another minute while Ken waited for me on a nearby bench. As I left, the lady looked at me and smiled. "We will be here all weekend. "Come back."
      "Oh, thank you. We are just passing through. Off to see our grandson at college!"
      I saw a flash of disappointment cross her face. She no doubt thought I was a fellow camper.
      Rejoining Ken, I shared about the big yellow dog, Bodie and his barking greeting. We continued our stroll reminiscing about our own Bodie of years ago and how she would let the grandkids hold on to her tail as she pulled them around the pool.
     As we walked past the various camp sites, we were met with friendly hellos and smiles. I could feel a powerful sense of community  among the campers.  I reflected on the idea of community, from "communare" meaning coming together. I often hear people complain that they feel isolated, they don't even know their neighbors, yet here at the water's edge, I was amazed to see how artfully these folks were making a beautiful celebration out of a something as simple as a camp ground and Halloween. They were all in, maybe that's what it takes to create such a culture, the desire to participate. I felt proud of my fellow humans!
            As we cleaned the sand off our feet, Ken commented, "Donna, I think we have collected another of those Precious Moments you are always talking about!"
            "Why, I think you are right." The friendliness of the dog owners, the decorations and excitement in the campground and the beauty of what it is to be human. I grinned as we got into the car to continue our adventure. Yes, we had collected another precious moment.