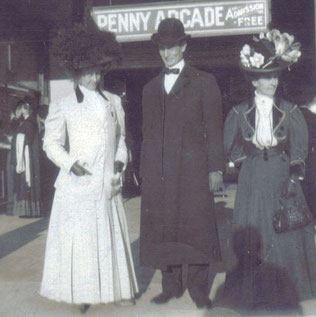 It takes my breath away to remember how scary the music was leading into the drama on the old time radio show The Whistler. Excitement oozed out of our Philco radio as my little sister and I sat spellbound waiting to hear what would happen next. Being a kid in the era before television offered thrills of the imagination. Those old shows, such as The Shadow, tantalized us with their scary, creaking, suspense!
    Simultaneously, many of us were also the lucky recipients of the oral tradition of story telling. My sister and I would wile away long hours at our grandparents' knees, captivated by their adventures. Our grandfather owned a pharmacy in the horse and buggy days of Los Angeles and we would delight in hearing how he foiled a robber by pretending that the over-sized candy bar in his coat pocket was a gun. We were often told about his amazing teacher Miss Mary Foy, an early suffragette who helped to bring the vote to women in Los Angeles in 1911, that was almost ten years before the rest of the country. Our grandmother (who was 20 years junior to our grandfather)  would intrigue us with stories of how she would ride the Red Car to the amusement pier at the end of Venice Boulevard where she would romp in the fun houses and whirlygigs. Another of her favorite topics was about the best teacher she ever had; also Los Angeles High School's Miss Mary Foy. We learned that as a young woman, Mary was the first female librarian for the big public library on Temple Street. As frequent visitors to that library, my sister and I could hardly believe that when it opened in the latter part of the 1800's women were not allowed to use it! 

     Those enchanting memories of old Los Angeles, came rushing back as I opened my invitation to the annual luncheon of the First Century Families of Los Angeles and
Mary Foy's photo adorned the front of it! The luncheon last week was in her honor. I was delighted! It is one thing growing up hearing old stories, and quite another to hold a photo of one of the main characters in your hand. The First Century Families consists of the descendents of the founding families in Los Angeles who lived there between 1781 and 1881. As I scanned the program I saw that Alice O'Neill Avery, her son, Tony Moiso, and granddaughter Trina Moiso were speakers. I closed my eyes and marveled that the generations from so long ago were able to come together each year and that the ties were so much deeper than a mere luncheon. I am fascinated that so many early Los Angeles families have developed interconnecting roots in Orange County. My husband Ken, for example, who worked with community members to build the Capistrano Valley Boys and Girls Club credits Tony Moiso and his family with substantive financial support and leadership in allowing the club to be born. I knew that my son Dan worked with members of the O'Neill family as well, in his construction business.
     On luncheon day, as the attendees gathered in the reception area of the California Club in downtown Los
Angeles, I made small talk with a woman and shared my relationship to Mary Foy. The lady responded, "I wore her graduation dress from Los Angeles High School at my own graduation from there!" I smiled as I thought about my grandfather's 1904 "Los Angeles City School" diploma hanging on my wall, of my own mother's graduation from Los Angeles High School. I thought of her classmate Mike Marienthal who was my husband's high school boys' vice principal and personal hero. 
     As the program got underway I was captivated by the history being shared; especially the daily shootings, in what was a wild outpost of civilization in those early days. I recalled that my grandmother's grandmother, Mary Berry Mathews, climbed off the Southern Pacific Rail car the day she arrived in downtown from Virginia, only to witness a gun fight and deadly shooting at her very feet. Her many children crowded behind her skirts. We learned that 5% of the population was killed in one year due to lawlessness and shootings! The program was a history buff's banquet. As the facts unfurled I was flabbergasted to learn that Mary Foy had founded this organization. No wonder my grandmother attended so many luncheons. I also learned that Alice O'Neill Avery was the last living member of the first gathering of these descendants.
As I drove home and passed Avery Parkway in south Orange County, and the communities of Ladera Ranch and
Mission Viejo, I thought of how they were all part of properties owned by the O'Neills and other early families, and that all of the vastness of beautiful Southern California was once part of Spanish land grants. I thought of our good friend Tony Forster and the fact that his great grandfather had once owned Mission San Juan Capistrano, the icon of our city. I am fascinated by the degree of closeness we share. My grandchildren attend Marco Forster Middle School, Tony barbecued at my daughter's wedding. My sons are in Indian Princesses with an Irvine family grandson. My grandchildren are friends with his children. History and our links to others fascinate me. I relish the fact that as a country we are still so relatively young compared to other parts of the world that we can name our touch points. I cherish the fact that we are so marvelously interconnected, held together by mere degrees of separation. I leaned back into the headrest of my seat as I thought that perhaps history could be more compelling than even the most powerful episode of The Whistler. I could only imagine what more I could discover with an opportunity to exchange more family stories. There is always next year! 
I would love to hear about one of your six degrees of separation.