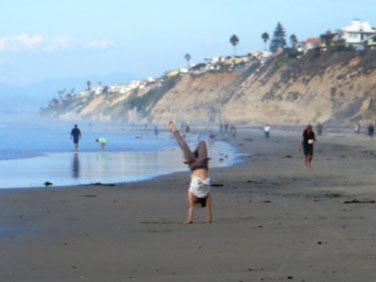 For years my husband and I have enjoyed a little share time by naming what we observed of beauty that day.  Last week, on the way to Thanksgiving dinner in San Diego, we drove along the coast. It was one of our beautiful warm California days, a perfect  time for collecting Beauty.  As our car moved along, we passed  a"toy box" trailer parked at the curb with a formally set table set up in the back, comp
lete with a floral center piece! Ken quickly turned the car around so I could take a picture and wish them a happy holiday. They  eagerly told me that they do this every year.  I loved that they tailor fit (trailer fit) the holiday to their needs. 
    Our plans for the day included a long walk along the shore. As we strolled, we encountered a man lying in the shallow water in his wet suit making "snow angels" in the gentle waters.  Clearly he was enjoying life.  A bit further,  we came upon two young girls doing cart wheels in the wet sand. 
Soon we observed a family sitting in beach chairs enjoying sandwiches. We thought to ourselves what  lovely creative ways to give thanks.  Finally heading back to our car, we passed the  picnic tables where we smiled to see an elaborately dressed table with the adjacent barbecue going full blast. That family was having their turkey dinner at the beach!
     As we drove to our daughter's home for our owncelebration, our excited talk turned to the clever ways people have for celebrating life.  As you prepare for your holidays I wish you the chance to survey all that is around you. Last night, coincidentally, Ken and I had the same observation. We had both noticed the tiny buds of moss growing along the dirt path to the barn, the  recent rain allowing nature to flourish. Last week I watched a flock of pelicans dive bombing into the ocean for their fish of the day.  I think I might have been laughing out loud. I loved how they would gain great height and then swoop straight down into the water!
                 I have discovered a site for inspiration which you might enjoy. It is http://www.thespiritedwoman.com/. The Spirited Woman organization is also on Facebook. There are stories and blogs that encourage us toward our best selves. I have been honored to be a part of this and this week, Cherish the Light, my new book, was listed as one of their top twelve book picks for the year. I hope your eyes discover beauty wherever you are.