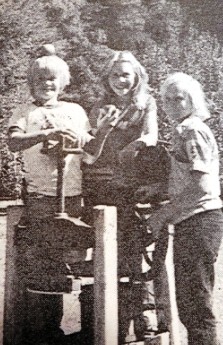 Happy New Year! I hope life is settling down for you after all the excitement of the holidays. Ours were lively and lovely even though my husband was struck down by the flu. 
     Yesterday I received a wonderful email filled with memories from a man who, as a child, enjoyed our 100 plus year-old river rock cabin near Big Bear. It had been owned by his grandparents during the 1940's and 50's.  
     The email was delicious with recollections of long ago badminton competitions, softball games with the ball landing far across the lawn in the Santa Ana River, and best of all, the fresh cider from the ancient apple press. He asked after the press; did it still exist? It does.My brain leaped to a favorite old photo of my three kids at that very press, my youngest who might have been six, with an apple on top of his head! In fact that photo was my Christmas card that year. A sweet memory for me. 
     My memories overlaid upon his, and got me to thinking about a book I am reading, The End of Life Book Club by Will Schwalbe which is getting a lot of buzz. In the biography, the author-son, is describing the last months with his mother: their bookish talks as she endures chemo, and he tries to discover what prompted her many big life decisions. I have been interested in the fact that the characters in this true story seem in such a hurry. Rushing here and rushing there, seemingly overloaded with too many things to do. As I reflect on the New Year's advice and resolutions landing in my inbox, I wonder if the best thing that some of us could do, is to slow down and take a breath. It may be that to truly live life, we need to more fully celebrate each day, and work to eliminate the rushing about or at least to fully appreciate what we are rushing to.