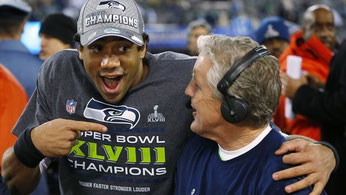 Hi there. During the celebratory minutes after Superbowl XLVIII on Sunday, the lovely female TV interviewer asked for Seattle Seahawk quarterback Russell Wilson's take on the day, after he guided them to an incredible victory against the Denver Broncos. Wilson, small for a quarterback, told the story of discussing his size and abilities in terms of making it into the pros with his father who remarked, "Why not you?"

     That comment instantly resonated with me. Russell Wilson would not be expected to dominate against the big league tough guys, but he did not listen to the naysayers and has not just made it into the NFL, he is a star. He said "yes" to football, even though he was signed as a pro baseball player. He said "yes" to the Seahawks' decision to make him the starting quarterback. Russell Wilson is all about YES! In a newspaper interview he elaborates, "I believe that God made me 5-11 for a reason. For all the kids that have been told, "no," that they can't do it, or all the kids that will be told 'no.'" 
    Do you ever think about all that would not have been accomplished if others had listened to the "nos"? Maybe no America, after all we are an experiment in individual liberties. Maybe no walking on the moon, no exploring space, perhaps no artificial hearts, no organ transplants, no to real civil rights, surely no lady interviewer on the football field! The list would be long. 
     Russell's message can apply to us. Why not us?What more do you want to do? Of course it will take determination, focus, and hard work, but what are you dreaming about that you still want to do in the world?
     Remember that Starfish story where the youth is throwing back the starfish which had been washed up during a storm? The old man naysayer comes along and sees the expanse of beach littered with starfish and says, "there are more starfish on the beach than you can possibly save before the sun comes up." The youth continued to throw them back one by one as he said, "I can make a difference to this one!" With that the naysayer bent down and began to help the youth. Before long others joined in and all the starfish were saved. 
     I love that story because it reminds us to take action and to insulate ourselves against those who would discourage us in following our hearts and realizing our dreams. Russell Wilson went for it. He reminds us "why not you and me?"