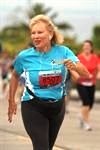 Husband Ken and I had a reality check Sunday as we completed our 13.1 mile Orange County Half-Marathon event. The story began a year ago when our son Rick and Ken, challenged any of our grandchildren to complete their first marathon. With rewards in mind, Jake and Jill completed theirs last year, this year Megan, turning 17 years old and younger sis, Emily, were up for the challenge. It is a lot of fun participating with our grandkids so Ken and I were in. As a daily power walker, I thought little of about it as we signed up, paid our entry fees, and took the girls the day before to pick up race packets and go to dinner; little of it. In fact I teased the girls about "carbo-loading" as I ate a salad and a half tuna sandwich sans any bread.
     As in the past six half marathons I have competed in, I got up at 4:00 a.m., ate a scrambled egg, tied my shoes on my feet and, with Ken, met up in the dark of early morning with son Rick and his two girls. The gun went off and Rick and Megan began their full marathon. An hour later our starting pistol sounded and Ken, Emily, and I began our half-marathon. We soon spread out ; I in my ipod zone.
     As the miles clicked by I admired the beautiful Corona State Beach, Newport Harbor, and the sunrise, all the while keeping up my usual steady power walking pace of four-miles an hour. As I passed mile ten I noticed that I was not interacting with the many cheering us on along the way as is my habit, nor was I now jogging past my
competitors. Still I thought little of it, hoped Ken was right behind me and ate my three snacks. It was a lovely race, even though my legs were starting to complain. It was not until I was across the finish line that the troubles began.
     I hear my Ironmen sons complain of 'BONKING,' but they do such huge events, it did not occur to me that I could do the same. The finisher medal was placed around my neck and I made it about ten steps to a table along the fence of the corral, where suddenly I was over taken by nausea, dizziness, and white lights in front of my eyes. I knew that was not good. I sat.
     Ken came in ten minutes behind me and experienced more of the same. This was a big lesson for us. We were blasé about the event, overly-confident, and did not consider the seriousness of power walking over 13 miles in the heat, at our age. One of the causes of "Bonking" is depletion of the blood-glucose levels. I had snacks but they were not carbs. Ken had no snacks.
     Recovered the next day, Ken studied the race results: the event raised three million dollars for charity, 22,000 people participated, only .37 % of all the contenders were 70 years or over. HMM..........maybe our age mates are more realistic, set more feasible goals, and do not take chances with pressing the limits, or at least they CARBO LOAD THE NIGHT BEFORE!!
     Our grand girls easily finished the event, loved it and say, "this is just the beginning of their running life." For Donna and Ken, we enjoyed participating with the family, but we learned a big lesson about being overly confident and the importance of one's fuel. 
     Has life shown you some lessons lately? I would love to hear about them!