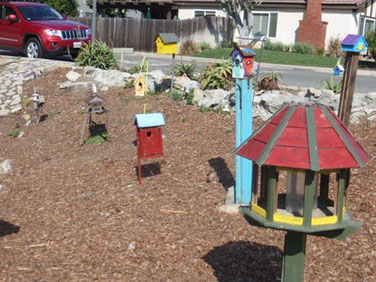 Yesterday, as I headed to meet up with my power walking pals, I noticed that my favorite Red Bud tree was showing its vibrant colors. Ah spring is in the air, I thought contentedly. As I drove along, my eyes fell upon the row of sunflowers that someone has whimsically planted in the vacant field by the elementary school. I smiled to myself as I admired their open faces. I could not get the "I-love-the-world" smile off my face! 
     Soon my friends and I were consumed with our fast paced strides and catching-up chat. We proceeded along for a few miles when suddenly, our friend, Diane, exclaimed, "Donna you are always on the look-out for precious moment. Here's one for you. Look. There!" she said pointing toward the neglected, wild open space by the trail. With that I looked more carefully to discover the source of her intrigue. There it was, something magical and serendipitous: about a dozen brightly colored bird houses and feeders planted all around, like a garden, in a forgotten patch by the pathway.
     All evening, I could not stop thinking about it. I told Ken and he shared that as he was driving to work he looked over and a young mother with a car full of kids, was singing her heart out as she waited at the signal. Happiness was abounding, it seemed contagious. We laughed about it.
     Today I went back to that bird house garden to take some photos. I examined the blue one labeled, "The Swallows Inn," the bright yellow one said, "by Cash Vargas age 7," another had a crazy skull and crossbones on it, while another was adorned with pink hearts. The garden was alive with color and whimsy. I was in heaven delighting in each little work-of-art house.
     A lady with two small poodles was crossing the street as I went back to the car. I asked her about the bird houses. "Oh, the neighbor down the street, the pastor, thought it was such a shame that in a beautiful town we have such neglected areas. A few years ago he began with the stone wall, then he added some bird houses, then the rock pond. People have added the plantings, more bird houses and feeders. It is growing. You should talk to him," she concluded, smiling at me.
     "So it has a spiritual element with the pastor and all?" I asked.
     "Of course," she responded knowingly.
     "Well it certainly called to me. I am very excited about it. I think it is a celebration of life. Thank you." And I hopped back into my car, loaded with my three huge Golden Retrievers.
     So, I am inspired! I am going to plant myself a bird house garden and I know just where to begin, the grand kids have gifted me some of their crafty houses, perhaps I can show them off! Maybe I could embellish the garden with some wind chimes. . . What fun. With the California drought upon us it is a perfect time to take out some of the water hungry plants and try something new. The more I think about this, the more excited I am becoming. But there is something else here, the lesson could be about imagination and taking action. The man behind this has started something precious. His random act may not be for any huge, important reason other than to bring joy. My guess is that he is happy for no reason, and cherishes the thrill of being alive in the world. I hope you are singing your heart out in the car and finding precious moments in the strangest places. I would love to hear about it.