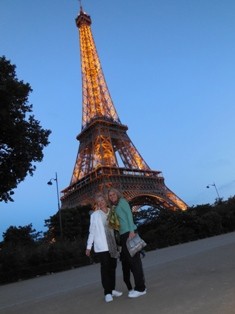 Bon Jour my friends! I am writing to you from Paris. I knew the six day hop-over to Europe would be a good trip when I took my seat on the giant airbus last week, buckled up, and glimpsed the tenderness of a young father in front of me, gently placing his infant into a zip-in snuggly baby bed at his seat. Tears sprang to my eyes as I wondered if dads get enough of the credit they deserve.
      During the subsequent days of sightseeing, I've noted many other young families, from every corner of the globe, with babes in arms, repeating the same kind of rituals; the covered Saudi mother offering her little ones juice, to the tough looking Australian man gently changing his infant son's diaper as we cruised down the Seine. This has given me fresh insights into the power of the family.
     Having the opportunity to spend six days with my own daughter exploring this "movable feast that is Paris," has also been a gift. One of our favorite things was inscribing a lock, closing it around the "love bridge," making a wish, and tossing the key into the Seine, symbolizing our loves for eternity. Julie's lock was about her 20th anniversary, and mine was a celebration of my 50th year with Ken next month.
     Paris can now boast three such bridges covered ingleaming gold and silver locks. The government tried to clear the locks, only for the locks to return, the peoples' choice. My bet is that in the future more bridges will be covered in locks whose inscriptions speak of love and hope. 
     On our first morning's power walk we came upon a bride and groom being married in the shadow of the Eiffle Tower. Even though it was rainy and cold, the bride, in strapless wedding dress, was beaming to her handsome groom as they exchanged vows. We have now counted six brides about in the city, posing, and exchanging promises in little romantic corners. I wonder how many we will discover today as take to our explorations on foot.
     In the future when the conversation comes to Paris, I will think of it as a City of Love and will understand that the custom of love locks originated long ago in China and now has spread around the world, an expression of hope and humanity, connecting people across the globe with the one thing that unites us all: love.
We will be home in a few days. I would love to hear your story. Daughter Julina and I are off to the Paris Book Festival Awards.