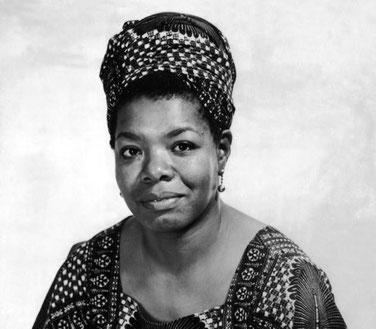 As my daughter Julina and I boarded the airbus to fly home from our trip to Paris, the news of our nation's foremost poet, Maya Angelou's passing came to us. Tears filled my eyes as I realized how fortunate I was to have had the honor of hosting and being befriended by Dr. Angelou two years in a row when she was the guest speaker at my college, during her College Circuit years in the 1970's. I can still visualize her taking the stage, dressed in her colorful orange printed African caftan and empress head wrap. The head wrap added to her already statuesque six-foot height.  
     As a young college teacher, I was impressed with everything about her from her strong voice to her commanding message. She told the audience of college students about visiting campuses across the country, and finding the audiences thin, going out on campus to recruit audience members. She made things happen. It was as if she grabbed life by the shirt front and demanded that it listen.
     I had read her 1969 I Know Why The Caged Bird Sings which resonated with me, even though at that time I had not dared to share my own secret of childhood violation. She modeled bravery for me.
     After her first event, as I drove her back to her hotel, safely cocooned in the darkness of the interior of my car, she looked over at me and said, "Nothing (meaning Civil Rights) will get better until people like you understand." She was referring to my blonde Anglo-Saxon self. Perhaps I only understood part of the concept in those early years, but across the next decades, I did get it. Equality for all of us is deeply embedded in my soul. I doubt that I would have had the courage to share my truth in Cry the Darkness had it not been for the inspiration of Maya Angelou when she looked me directly in the eye, and beseech me to understand.
     I do understand, I understand that America lost a true hero on Wednesday May 28th, our poet laureate, a prolific writer, an actress, a professor, a singer, and an inspiration to the Civil Rights Movement. She will be missed, but her legacy of making things happen will remain. She was a fighter and a doer. It is hard to imagine that the amazing and impressive Maya Angelou ever had to walk a campus to recruit students to listen to her poetry and her wisdom. The force of her character was life-changing for me. Her's was a life fully lived!