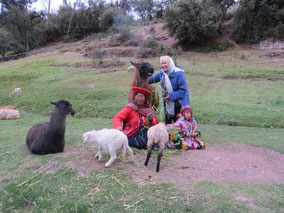 On Saturday I was honored to be among the five hundred or more celebrants at a friend's memorial. His time was cut short but the many eulogies reflected the rich way in which he approached life, deeply touching all who knew him. By the end of the beautiful celebration I could not help but smile and think, "A life well lived! Bravo!"
     I continued to think about him and about the many indigenous people I encountered on my eleven day adventure to Peru last month. I came away from both experiences with a new perspective and appreciation for what it is to be human. I am impressed that we humans, no matter how hard it is, just seem to continue to move forward. Our friend fought bravely, never losing his love of life, for a very long time against the cancer that gripped him.
     High in the Andes, I was awed by the fact that people have so little but yet seem content and cheerful while they work very hard. At 14,000 feet native women sit hunched at their blankets of wares far into the freezing dark of early nightfall, hoping to earn a few dollars by selling their mittens and curios. In Machu Picchu, our guide, Sonia, endures a three hour trainride from Cusco, a half hour bus ride through the jungle, to arrive at the park gates in hopes of a chance to guide someone. She earned $45 for taking us around for two hours, then she repeats her trip back home. Seven hours in transportation for a chance to earn $45. Yes, the Peruvian economy is different from ours, but still, a big effort for the rewards, and she is happy to do it!
     Two thoughts keep running through my head, how brave humans can be in the face of adversity, and how important it is NOT to take for granted the plenty which we enjoy. I hope through the holiday shopping and wrapping that perhaps we can teach the children in oursphere to appreciate the fact of being alive in the world and to honor the riches we might almost take for granted as Americans. Perhaps we can reach out to others in need during this beautiful season as we consider the thought that Life should not be lived but celebrated!