I found this last Friday as I was cleaning. I wrote it thirty-two years ago. Our daughter was sophomore class president and needed to provide chaperones for a class trip into Hollywood. Ken and I climbed into a bus full of San Clemente High School students going to a TV show taping. 
A mother's midnight reflections-March 28, 1984.
A "Shiksa Goddess" is Born
     The audience at the KCOP taping session for a popular evening 
televisio
n game show is brought to a hush by the handsome thirtyish host as he carefully selects nine candidates from the audience to 
participate in a pre-show contest. As my almost-graceful fifteen year-old daughter is drawn from the ranks of the eager contestants, my stomach tightens in wonder, will she be able to hold her own and answer correctly in 
front of all these people?
| | |
| --- | --- |
| | |
| Julina age 15 | |
    The chosen participants line up in front of the audience as the dashing emcee asks them to name one of the Great Lakes. As my daughter's turn approaches, the number of possible selections is diminished by each 
correct response. My concern mounts. I sigh in relief as I hear the huskily whispered answer, "Lake Michigan." 
I bask, momentarily relieved.
     My attention returns to the emcee who has just discovered how lovely this young woman is. Portraying sudden adoration, grabbing his heart, he swoons as he says to her, "Well, anything you say!" 

    Several more questions, my apprehension continues to increase with every approaching turn. With each correct answer the young man displays ever increasing ardor toward my daughter. Finally, he explains that his deep desire would be fulfilled if only he could get to know this beautiful creature better, but alas his wife, "Moose," would never allow it! The audience laughs in appreciation of his good taste and delightful humor.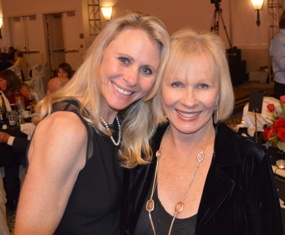 Before long, the time for the taping arrives and the pre-show warm-up activities are rushed to a close. The contest is over. As my daughter is sent back to her seat, the young man sadly bids farewell to the "Shiksa* Goddess!" 
     In this moment, I am validated. My deepest convictions are 
publicly declared for the first time, my guess is that this is just the precursor to a thousand such incidents. As my only daughter makes her way back to her seat, I find myself thinking back over almost 
sixteen years to that early summer morning on which she was born. I remember the intensity of emotion I experienced as I expelled her from my protective body into the world. It was the single most powerful event of my life and I burst into tears of unbridled joy. I got my girl! Instantly the nurses were on me, admonishing me to not cry! They teamed up on me, insisting, "Dear, you will mess up your hair!" I stuffed those tears. Later, during visiting hours, I heard my grandmother's declaration that this was "the ugliest baby" she had ever seen. 
| | |
| --- | --- |
| | |
| Julina age 13 | |
     Visions of that awkward girl with orthodontic braces and size ten feet on skinny legs danced before my eyes as my thoughts brought me to
 her intense tenderness toward animals and little children; how concerned she was the day she discovered the baby swallows who had fallen out of their nest, how she fed them around the clock fo
r days with an eye-dropper. I always knew how beautiful she was on the inside. And now as she glides to her seat, I see that the feet easily fit the tall firm young frame, that the lush blonde hair flows around her arrestingly beautiful heart-shaped face, set off by tantalizing green eyes w
hich sparkle with devilment. I know that long ago on that certain day, a goddess was born indeed!
My best, donna
*Def: a non-Jewish girl or woman