Finding the Magic in the Season
     Perhaps this is a good time of year for marinating ourselves in the many wonders that abound in everyday living. One of the most powerful action steps we can take toward happiness is living in gratitude. Why not take up the challenge in these days leading up to the holidays to search out what is precious in your daily rhythms and celebrate them?
 Our twenty-two year old grandson returned last week from a six-month study abroad program in Australia. As our wonderful Jake returned to the family fold, with longer hair than we'd ever seen and a hairier face it called up an old, sweet memory for me. I want to share it with you as a holiday "feel good." 
      As I recall it was a dampish winter afternoon ten years ago, when I had the pleasure of accompanying my daughter as she picked her three children up from elementary school in San Diego County. The energetic enthusiasm of the children freed after seven hours in the classroom was contagious. A huge smile was stuck on my face as the children raced past us, some playfully pushing and poking at one another, glad to be free.
     We gathered up two of our kids but after some time, the oldest, Jake, still had not come out of his room. We went in search of him.
   Upon arriving at his classroom an electric wave o
f excitement spilled over us as we crossed the threshold. I blinked my eyes. I was stunned to find that the room was still full of sixth graders who were happily working at their desks! By now about 20 minutes had elapsed since the dismissal bell and yet the students were not leaving. The culture of the classroom engulfed me in its warm embrace. It seemed almost magical. Soon Jake introduced me to a key element of the class: Tank, a big yellow service dog that the students supported and loved. I thought, 
why would the children want to leave?

     Tank was their philanthropic project. They supported him and one other service dog, Foster, through their non-profit business. The students made and sold dog biscuits and dog houses. All of this was to help support the service dogs which assisted in their reading-buddy project with the younger children. Clearly the opportunity to know Tank and Foster, to
| | |
| --- | --- |
| | |
| | Donna's painting of Foster the service dog |
 support them, to have a business and a business plan had brought out the imagination and enthusiasm of the children as it was teaching them life skills. I recall how proudly Jake showed me the cubby area where the service dogs, the 2nd graders and the 6th graders worked on their reading. The young children read to the dog under the supervision of the older student. Jake explained to me that research evidence showed a gain in confidence on the part of the young reader when the child reads to the dog. I could see that confidence was gained by the 6th grader as well. As a lifelong classroom teacher myself, I was simply overwhelmed with excitement at what was going on in Jake's educational world!! I wanted to share this with you, to celebrate the everyday heroes, like his teacher Mrs. Benowitz, who are making a difference out in the world, quietly, with no fuss, just accomplishing amazing things.

     There are examples like this all around us, regular folks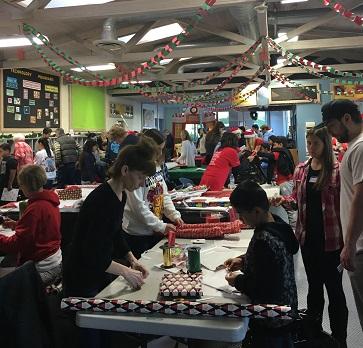 adding magic to life. My son and his girls joined a dozen or more volunteers at the Boys and Girls Club last weekend for Operation Homework. The volunteers created an assembly line, wrapping donated gifts so that the children can "buy" presents for their families through the points they earned doing their homework. It was a noisy and fun work day of helping a few hundred children to do their "shopping!" I hope you look for these little acts of magic and celebrate them.

I wish you a wonderful holiday. My best, donna